ABOUT PALOMAS, MEXICO

Puerto Palomas de Villa, also known simply as Palomas, is a small town of 4,700 people in the municipality of Ascensión, in the Mexican state of Chihuahua. It borders with the village of Columbus, New Mexico, in the United States.
| | | |
| --- | --- | --- |
| Most tourists drive down to Columbus and walk across the border. But Some Fly! | | Most US tourists come to Palomas to purchase low cost prescription drugs, get dental work done, eye examinations and same day purchases of prescription eye glasses or contact lenses, or to visit "The Pink Store and Restaurant". The store has arts and crafts from all across Mexico, and is known for its dishes made from queso menonita (cheese of the Mennonites) produced in the state of Chihuahua. That in itself is enough to make folks want to take the short drive to Palomas, Mexico. |
In just a half an hour from Hwy 10 at the Deming city exit, and just 3 minutes from Columbus, New Mexico, you can be in another country.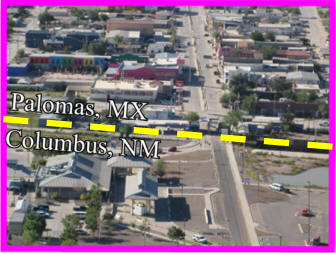 Columbus NM - Palomas MX Border Crossing
You are more than welcome to drive your vehicle into Mexico, but most folks simply utilize the free parking lot on the U.S. side of the border and walk across. The parking lot is right on the border--as is Palomas. Everything you'll want to do and see there can be done within 4 blocks of the border. At this time, you don't need a passport or special papers to visit Palomas. You can even take your dog.

Coming back to the United States is a different matter. If you don't have a passport, you will need a driver's license or a birth certificate or some other government-issued identification with a photo to prove you are a U.S. citizen. You may also be asked to prove your pet has all its shots. The rules are ever-changing so it is a good idea to check with customs before you cross the border. It is also a good idea to check and see what you may bring back, such as alcohol and tobacco products. Some items are prohibited.
The Mexican welcome wagon usually consists of street vendors selling bootleg copies of American-made movies, "designer" sunglasses and wallets. Child "entrepreneurs" make up the second wave with their little hands held out asking for your pocket change.

The streets of Palomas are lined with just about every type of shop imaginable. Occasionally someone will try to hand you a sale flyer for a store further in town that offers cheaper prices than those shops on the border.

Geography and Climate

Palomas is located in the Chihuahuan Desert at an approximate elevation of 4100 feet (1250 m) above sea level and as a result of this rather high elevation, in addition to its location in the far north of Mexico, winter temperatures are cool to warm, with an occasional cold snap producing about 5 inches of snow per year.
It's big, it's very pink, and you absolutely can not miss it. It is called the Pink Store and it has developed an almost cult following of locals from Deming, Columbus, Lordsburg, Las Cruces, Silver City and El Paso.
| | | |
| --- | --- | --- |
| | Watch the Pink Store Video | |
The Pink Store owners, Ivonne and Sergio Romero, have been serving up old-time Mexican hospitality for a quarter century. "This is going to be our 25th year, holy guacamole," exclaimed Ivonne. "My grandparents had a similar business for 54 years and I said I'd never do it -- and here I am."
The Pink Store and Restaurant is not the typical Palomas establishment. The wares for sale reflect a broad cross section of Mexican artists. "We don't sell seconds, we don't take buyers. We hand pick all of our own stuff and we have artists that we have been buying from for years," Ivonne said. "That is why people drive here from all parts of the United States." One of our artists, Mario Lopez, is featured in the Museum of Mexican Art in Chicago."

"There's beauty here, everything is just so beautiful," said Dolores Chaves of Deming. "They have a lot of stuff you just don't see in a regular store." The Pink Store does carry a number of what you might consider traditional Mexican souvenirs, such as hats and paper flowers, just so "regular" tourists won't be disappointed.

The Pink Store Plaza General Pershing & Pancho Villa
Shaking Hands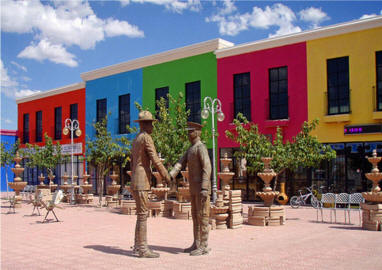 Photo by Khder
For many, the authentic Mexican food is the main draw to the Pink Store. The cheese for the chile rellenos and other Mexican favorites is actually made by a nearby Mennonite community. "What a great place," said Bayard resident Mark Richard. "It is so much fun. We have been coming here for years -- the guacamole is the best."
The people you meet make Palomas an interesting place. It is sort of like one of the watering holes of the Old West. "It's like a melting pot," said Deming resident Vicki Bellinger. "I meet people from all over the world here."
For decades, U.S. residents have come to Mexican border towns seeking more affordable dental work, prescription medication and eyeglasses. Others come in search of cheaper grocery and fuel prices; many just for trinkets. There are still bargains to be found.
Other area attractions include Columbus, three miles north of Palomas. It was here that Gen. Francisco "Pancho" Villa made his raid on U.S. soil on March 9, 1916. He even has a state park named after him.

Note: Original article written by Sam Conn. It has since been edited to reflect the changes in Palomas.

Palomas History

It was from here that Pancho Villa launched his attack on Columbus, New Mexico, on March 9, 1916. In retaliation, the United States launched the Pancho Villa Expedition, under General John J. Pershing, to capture Pancho Villa.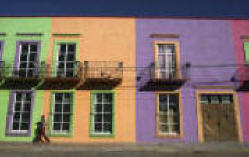 Photo by Don Bartletti

Palomas Services Directory

AUTO BODY

La Frontera Auto Body & Upholstery

DENTISTRY

Smiles Dental Care
LODGING

Los Milagros Hotel (USA)

NATURAL MEDICINE
OPTOMETRY

PHARMACY

Farmacia Express
RESTAURANTS
SHOPPING
Click Logo Above For All Current
Border Crossing Information


Los Milagros Hotel


losmilagroshotel.com
For Overnight &
Long-term Lodging
In Columbus, New Mexico
Just 3 minutes from Palomas!
Call for reservations
(575) 531-2467

Pancho Villa
State RV Park & Museum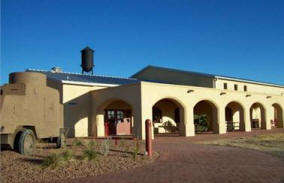 Click Here For Park Website
Gates open 24 hours
(575) 531-2711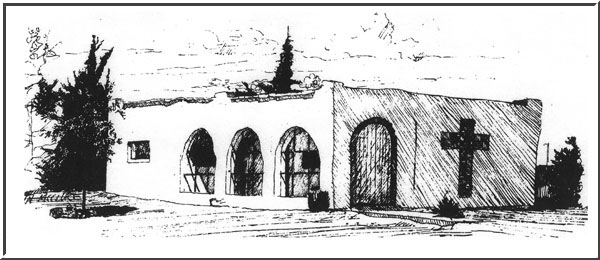 Our Lady Of Las Palomas


Our Lady of Las Palomas is a multi-faith multi-cultural community of contemplation, prayer and action committed to the life of simplicity, presence, and service in right relationship with God. We are a beyond borders interfaith community with people of the United States and Mexico participating in a cooperative community of justice and sustainability.
Visit Us!
Contact Website Manager
Do you have comments or suggestions to improve this web site? Would you like to be a contributing editor? Would you like your Palomas related business added to this site? Please send your inquiries to the email address below!
palomasmexico@gmail.com

Copyright 2021 Luna Tech Web
All rights reserved.